NOVOSTI
Agilent Wins *TWO* 2017 Innovation Awards!
Agilent Wins *TWO* 2017 Innovation Awards!
Every year, industry journal "The Analytical Scientist" recognizes the top 15 innovations in analytical chemistry.  For 2017, Agilent has captured two of the 15 TASIAs.Two Agilent products have won "The Analytical Scientist Innovation Awards" for 2017.

The Agilent Captiva Enhanced Matrix Removal-Lipid provides for highly selective, efficient and easy lipid removal from complex samples.

The Agilent Ultivo Triple Quadrupole LC/MS delivers the performance of a traditional high-end liquid chromatograph QQQ in one third of the laboratory bench space.  This next-generation instrument is easier to use and costs less to operate.  I have blogged about Ultivo here.

"The Innovation Awards continue to shine a light on the instruments and technologies that are having a big impact across the analytical sciences," says journal editor Charlotte Barker.  "The final 15 reflect the full spectrum of analytical advances."
8. Captiva Enhanced Matrix Removal-Lipid
Highly selective, efficient and easy lipid removal for complex samples.
Bond Elut Enhanced Matrix Removal-Lipid dSPE sorbent was developed in 2015 and is recognized as an innovative technology in the food industry – it selectively target lipids using a combined mechanism of size exclusion and hydrophobic interaction and integrates into common workflows such as QuEChERS.
Advances in sorbent chemistry now allow EMR-Lipid to function in a pass-through SPE format – Captiva EMR-Lipid. The new format can be integrated into popular protein precipitation workflows and provides bioanalytical scientists with a tool to remove lipids, including phospholipids, without adding additional steps. A non-drip feature in smaller formats facilitates in-cartridge protein crash, while larger sizes support gravity flow elution for food safety labs. The new Captiva EMR-Lipid formats deliver high recovery for a diverse range of analytes and readily accommodate multiclass, multiresidue analysis workflows for complex, fatty samples.
Potential impact
When organic solvent is used in protein precipitation of many plasma and whole blood samples, lipids remain soluble in the sample and cause matrix effects that negatively affect the data, reduce method sensitivity, and lead to poor reproducibility. Lipids can also accumulate over time within the system, affecting column and instrument long-term performance due to contamination and carryover issues within the detection system.
The Captiva EMR-Lipid pass-through SPE format simplifies workflows and reduces sample preparation steps. With cleaner samples (removing >99 percent of phospholipids), the method sensitivity and analyte recovery is improved, which results in faster data analysis, better reproducibility and higher data confidence. By avoiding the introduction of a heavy-laden matrix into the system, unscheduled downtime is reduced.
What the judges say:
"Simplifies sample preparation for complex samples, especially in food analysis."
9. Ultivo LC/TQ – 1260 Infinity II Prime LC
A high-performance LC/TQ, a third of the size of previous generations.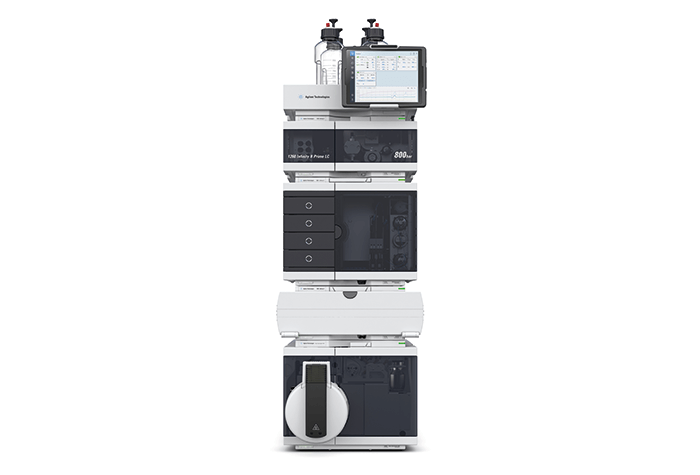 The Ultivo Triple Quadrupole LC/MS delivers the performance of a traditional high-end LC/TQ in a third of the laboratory bench space. It is also designed to be integrated into a stacked LC system to free up additional lab space.
Ultivo's next-generation ion optics are miniaturized without loss of sensitivity. The novel twisted and tapered dodeca-hexapole cyclone ion guide collects ions and transmits them to MS1. Thin DC-only pre-filters provide efficient ion injection into the new reduced-size quadrupoles. The Vortex collision cell confines ions during fragmentation with a twisted and tapered hexapole, with fragmentation patterns comparable to those from traditional collision cells.
A new embedded software computing platform provides smart self-tuning and enhanced diagnostic capabilities. Removable instrument side panels provide easy access for system maintenance, and VacShield allows capillary exchange without breaking vacuum. The 1260 Infinity II Prime LC completes the system, offering the highest sample capacity per bench space for any laboratory.
Potential impact
Ultivo marks the next generation of LC/TQ instruments. It offers performance equivalent to or better than larger LC/TQ systems, with the added benefits of being smaller, easier to use and costing less to operate. Laboratories benefit from its space-saving and stackable design, providing optimal use of lab bench space, plus early maintenance feedback, enhanced serviceability, intuitive operational design, and robust/reliable performance in difficult matrices.
These enhancements along with streamlined data management tools ensure that Ultivo, when coupled with the 1260 Infinity II Prime LC, meets the challenges users face for performance, form factor, robustness, time-to-report, ease-of-use and ROI.
9.11.2018
Pozivamo vas na seminar pod nazivom Nova, brza rješenja u bakteriologiji za kliničku učinkovitost, u organizaciji tvrtki Alifax …
6.11.2018
Confidently perform multiple experiments, simultaneously The innovative new Agilent Cary 3500 UV-Vis will transform your laboratory. …
3.10.2018
Agilentova zajednica je znanstvena online platforma s fokusom na uzajamnu pomoć među korisnicima. To je …
FEATURED TRAINING & EVENTS
FEATURED PROMOTIONS
Have you discovered Agilent CrossLab yet? Agilent CrossLab delivers vital, actionable laboratory insights that drive …